Laser engraving and cutting machine
Regular price
Sale price
HK$0.00
Unit price
per
Sale
Sold out
This model is a pre-order item
If you are interested, please contact us for enquiry!

Tel: 26191183

​GCC Laser Pro S400 is the latest model of laser engraving machine, inheriting all the advantages of Spirit Hybrid, equipped with a DC servo motor, and the processing speed reaches 140ips. Engraving is faster, and the working area is larger and deeper to accommodate a wider variety of objects.
The original touch screen and user-friendly operation interface conform to the modern aesthetic design. S400 is equipped with SmartLID for easy access and industrial dustproof, bringing you high productivity and high quality. GCC S400 realizes your imagination and design.
Working area: 1016 x 610 mm (40 x 24 in.)
Z-axis depth: 280 mm (11 in.)
Optional wattage: CO2 Laser 40W~120W | Fiber Laser 20W~60W
Shipping / Pre-order Terms

Delivery terms

Over HK$1500, free delivery;
If the amount is less than HK$1500, an additional local standard delivery fee of HK$150 is required;
Or SF Express (pay by freight)

Pre-order terms

It will take about 2-4 weeks for the pre-order to arrive. It is for reference only, and the actual situation depends on the shipment and transportation situation.
After the pre-ordered goods arrive, we will notify the customer of the arrival for arrange the payment of the final amount. We will arrange the delivery once the payment confirmed.
After the payment is confirmed for all reservations, no cancellation or refund application will be accepted.
One year warranty

Starting from the invoice date, a one-year warranty is provided.

⚠️The following are not included in the maintenance service:

3D printer: extruder and clogged nozzles.

UV printing printer: printheads and clogged nozzles.
View full details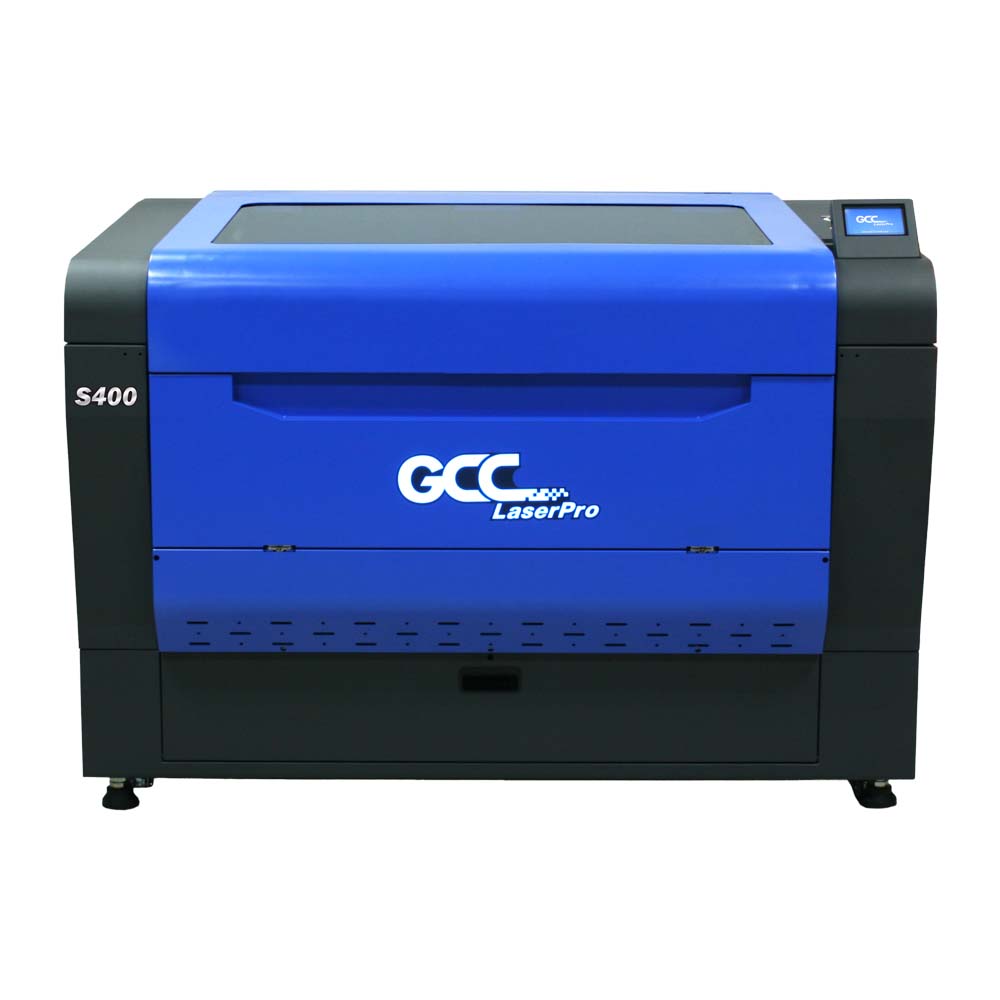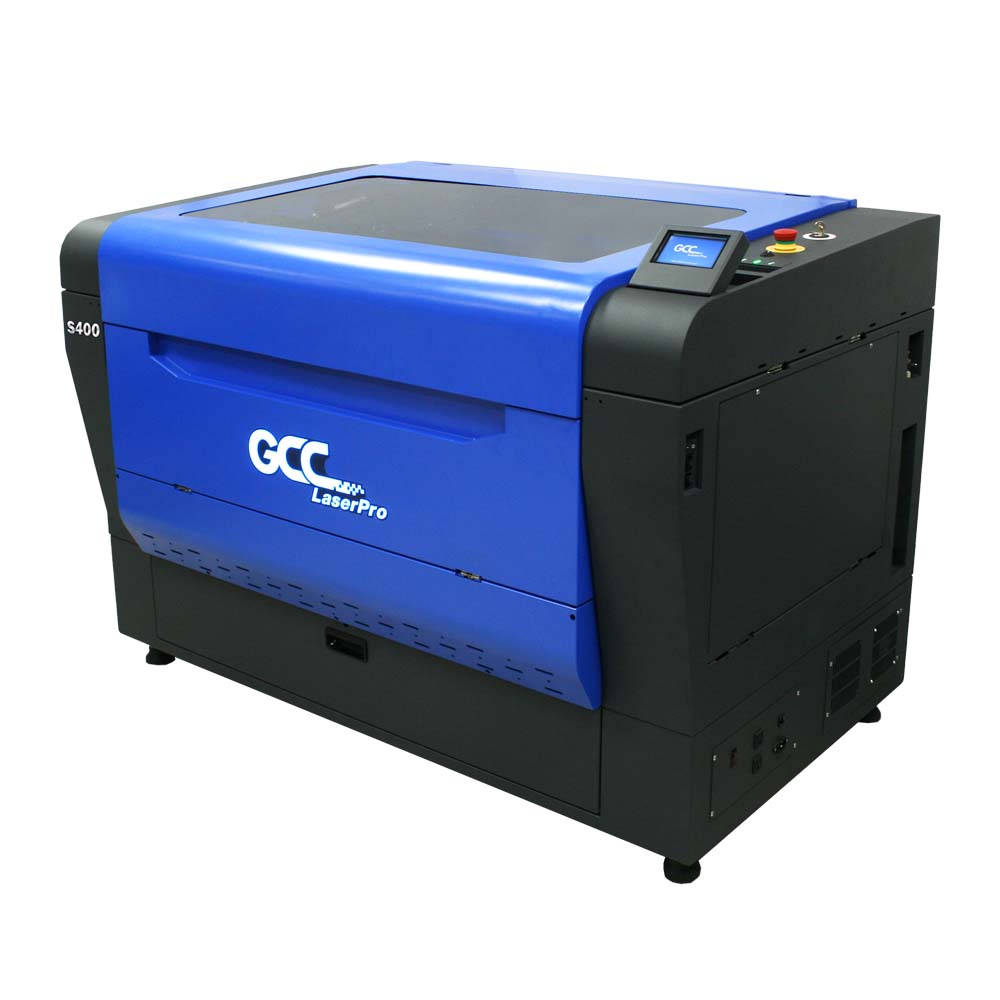 Humanized design, easy to use
自動對焦

專利智能自動對焦,能在激光雕刻機上的工作區域找出精確焦點。自動對焦是最有效率的的對焦的工具,可以防止人為的錯誤。

自訂起始點,一拖即完成

GCC S400人性化的工作介面提供強大的功能設置,可直接將鐳射頭拖動至起始點,無須計算位置,大大簡化了複雜的輸出任務。

簡單易用的控制面板

簡單明瞭的快捷鍵設計和圖形按鈕可用於直接更改機器參數設置,無數次重複當前工作,排列加工順序,刪除加工檔等。
Appearance and function design are fully equipped to meet various needs
混合鐳射管,滿足需求

GCC將CO2(二氧化碳)鐳射管和Fiber(光纖)鐳射管混合裝配至一台機器中,即可加工有機材料,如亞加力膠片、雕刻木板等物料,又可直接雕刻金屬材料,如鋁片、不鏽鋼片等。

前後可開門(選購)

前後門均可打開的設計,可容納極長的工件,滿足製作大型的物料需求,擴展業務靈活性。
SmartFLOW™氣流設計技術

S400 SmartFLOW™ 創造了完美的氣流,以增強真空效果,並在鐳射雕刻工作時完全帶走灰塵,以保持完美的雕刻效果。

SmartACT™ 提高生產率(專利)

一項突破性的技術,可減少鐳射雕刻的斜坡過程和作業運行時間,從而提高生產率。

SmartSEAL™技術

全新筆車頭防塵設計,方便取下的罩蓋也讓維護更輕鬆。
鑰匙開關及緊急按鈕

鑰匙開關保護機器以免非授權使用。機器頂部顯眼的緊急制動按鈕可用於立即停止鐳射發射及筆車運行,確保操作環境更加安全。

SmartGUARD™ 火焰偵測器 (專利)(選購)

使用SmartGUARD系統的鐳射切割和雕刻機,可確保最佳的安全性。發生故障時,警報系統將立即啟動並關閉作業系統。

吸氣除臭裝置(選購)

可配合選購CE認證的吸氣除臭裝置,旨在去除鐳射加工過程中的有害煙霧和粉塵,保護操作者的健康,消除環境污染,增強激光切割效果。
SmartEYES™ (選購)

頂蓋上的 SmartEYES™ CCD; 能夠捕獲機器的整個工作區域。 幫助你輕鬆定位。 SmartEYES 包括超高解析度相機; 它可以提供精準全工作區域的精度。

SmartVISION™ Pro CCD(選購)

GCC S400 利用CCD 模組來提高生產力,因為它能夠學習、記憶和定位打印的圖形來執行輪廓切割並自動進行調整以確保正確切割材料。
S400 CCD 模組可讓您在打印在木材、壓克力、卡紙等材料上的圖像周圍創建極其精確的激光切割。

Rotary Attachment(Optional)

By using the rotary attachment, laser engraving on cylindrical or round objects is now possible. This option uses the fourth axis to rotate your object 360° to allow engraving on cups, wine glasses or even a baseball with two types of conical fixtures available. The minimum/maximum diameter and length of the working object are 90/180mm and 450mm respectively. Its maximum weight should not exceed 4kgs.
Technical Specifications
Technical Specifications

Working area: 1016 x 610 mm (40 x 24 inches)
Maximum workpiece size (front and rear doors closed): 1053 x 647 x 280 mm (41.4 x 25.4 x 11 inches)
(with front and rear doors open): 1053 x ∞ x 280 mm (41.4 x ∞ x 11 inches)
Table Dimensions (Standard Mesh Cutting Table): 1019 x 613 mm (40.1 x 24.1 inches)
Dimensions (L x W x H): 1440 x 900 x 1048 mm (56.7 x 35.5 x 41.3 inches)

net weight:
CO2 30~40W: 260kg/573lbs
CO2 60~120W: 270kg/595lbs
Fiber 20W~60W: 260 kg/573 lbs

Laser source:
The laser source is CO₂ (carbon dioxide):
10.6-μm CO₂ laser: optional 40~120W
9.3-μm CO₂ laser: 60W

The laser source is Fiber (optical fiber):
Fiber Laser: Optional 20/30/60W

Mixed laser source CO₂ (carbon dioxide) and Fiber (optical fiber):
10.6-μm CO₂ laser: optional 30 to 100W
9.3-μm CO₂ laser: 60W
Fiber: 20/30/60W

Cooling: Air cooled, operating ambient temperature 15°- 30°C (59°- 86°F)
Drive: Closed-loop DC servo motor control
Maximum Motor Speed: 140 IPS
Speed ​​control: adjustable from 0.1 to 100% (up to 16 color-associated speed settings per job)
Power Control: Adjustable from 0~100% (up to 16 color-dependent power settings per job)
Engraving capability: 256-level grayscale image processing capability
Distance Accuracy: 0.254 cm or 0.1% of movement, whichever is greater
Z-axis movement: automatic

Focus lens:
CO₂: Standard 2.0" (1.5", 2.5" and 4.0" available)
Fiber: standard 2.0" (optional 4.0")
Dual (CO₂+Fiber): standard 2.0" (optional 3.0" & 4.0")

Resolution (DPI): available 125, 250, 300, 380, 500, 600, 760, 1000, 1500

interface:
10Base-T Ethernet
USB Type-A 2.0 – for USB storage (up to 32GB capacity, FAT file system)
USB Type-B 2.0 – for connecting to a computer

Compatible OS: MS Windows 64 bit
Control Panel: Touch Screen

Safety:
Class I laser products complying with EN60825
Class 3R laser products complying with CDRH
Compliant with 2006/42/EC Machinery Directive
Install the optional switchable door module, Class 4 laser products that meet the CDRH standard

electricity demand:
100-240VAC, 50-60Hz automatic switching for 80W models, maximum 15A
200-240VAC, 50-60 Hz automatic switch to 80W and below 80W models, maximum 15A

Smoke and deodorization device:
External exhaust system with a minimum flow rate of 800m3/h
(CFM 471 ft3/min) required, 2.3kPA negative pressure