Regular price
HK$39,999.00
Regular price
Sale price
HK$39,999.00
Unit price
per
Sale
Sold out
Print more 3D models of different sizes as you like!
- Experience high-quality output with the best-in-class size (310X310X310mm)

- Suitable for school, maker, office use

​Greater output size allows a larger 3D model to be printed at once
With the new Build Size lineup, the Cubicon Style NEO-A31C has expanded the bed size as well as has increased output volume by approximately 324% compared to Style Plus-A15CR. Depending on your purpose, you can print more various sizes of 3D models.

Real-time monitoring and remote control with a built-in camera
With the built-in camera inside the Cubicon Style NEO, you can check the output process not only on the touchscreen at the front but also on your computer or smartphone. Also, if an output error or failure is identified, the output situation can be controlled through network remote control. (power stop and restart, etc.)
Auto-Leveling Plus creates high-quality output
The flatness of the bed on which the build is printed and the spacing between nozzles are important factors in determining the quality of the output.
Style NEO delivers Auto-Leveling with the error precision within 10μm by applying the industrial load cell, it reduces height error failures during printing and provides the user with the best-in-class output quality.
First in Korea, equipped with the self-designed replaceable Nozzle Kit Extruder
Most output problems can be easily maintained by simply replacing the nozzle kit fitted to the Extruder, so it is designed to make it easy for anyone to attach/detach the nozzle kit without extruder disassembly, even if an extruder replacement is required.
As it is self-replaceable without waiting for customer service, it reduces maintenance costs and allows output without time-consuming.

Enhanced usability with stainless nozzle kit
Equipped with the stainless nozzle kit patented by Cubicon has enhanced usability and minimized the probability of failure. Different from a typical nozzle kit with a tube attached, it is connected with a stainless steel pipe to provide excellent performance even in hot output materials.
The automatic filament feeder with built-in two rollers
he automatic filament feeder with built-in two rollers allows a more stable filament supply to significantly improve ease of use. In addition, with the contactless optical sensor, it automatically stops the output when there is a supply problem due to filament exhaustion or breakage and reduces output time and saves material waste dramatically by allowing the output to continue when reconnected.
Product/Quotation Inquiry
View full details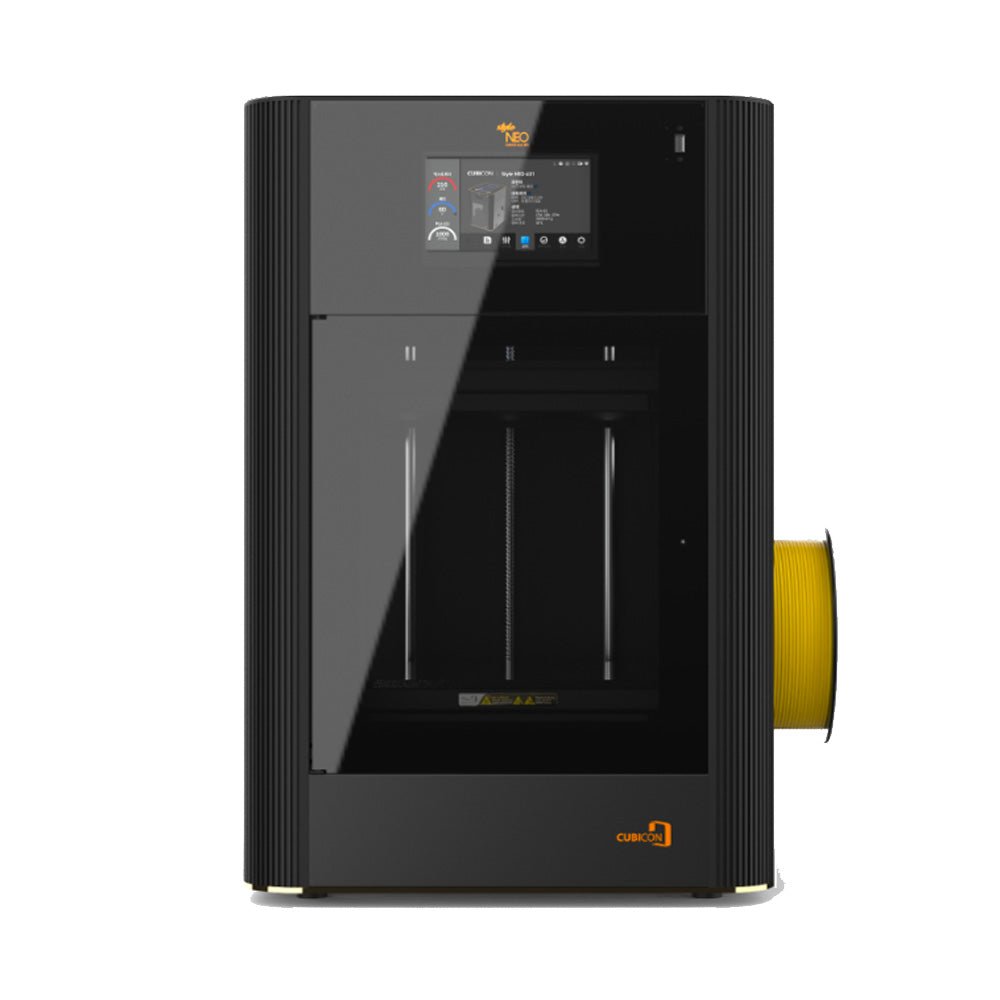 technical specifications
technical specifications

Printing technology: FFF - Fused Filament Fabrication
Print size: 310(W) x 310(D) x 310mm
Printing speed: Max 150mm/sec
Layer height: 100 - 300um
Filament diameter: 1.75mm
Filament type: ABS, ABS-A100, PLA Plus, PLA - i21, PETG, TPU
XY position accuracy: up to 3.125 microns
Z position accuracy: up to 1.25 microns
Maximum nozzle temperature: 260°C
Maximum heated bed temperature: 120°C
Dedicated software: Cubicreator v4.0 (For Windows)
File type: *.stl, *.obj
Operating system: Windows 7 or above
Working voltage: 200 - 240V, 60Hz, 2.65A
Power supply: AC/DC Adapter 24V
Transmission interface: USB (FAT32/NTFS), Ethernet, Wifi
Dimensions: 498(W) x 552(D) x 710(H)mm
Weight: about 45kg