3D printer
Regular price
HK$14,999.00
Regular price
HK$17,000.00
Sale price
HK$14,999.00
Unit price
per
Sale
Sold out
Full Auto Leveling Calibration | 3 Layered Clean Filter | Stable and Durable Operation
🇰🇷 Made in Korea 🇰🇷
Cubicon Optimus C23Z is the ideal model for printing detailed 3D models. Fully transparent body design, the printing status can be seen at a glance. With double Z-axis bed structure, the printing size can reach 230W x 210D x 300H mm. Print speed up to 150 mm/sec.
Shipping / Pre-order Terms

Delivery terms

Over HK$1500, free delivery;
If the amount is less than HK$1500, an additional local standard delivery fee of HK$150 is required;
Or SF Express (pay by freight)

Pre-order terms

It will take about 2-4 weeks for the pre-order to arrive. It is for reference only, and the actual situation depends on the shipment and transportation situation.
After the pre-ordered goods arrive, we will notify the customer of the arrival for arrange the payment of the final amount. We will arrange the delivery once the payment confirmed.
After the payment is confirmed for all reservations, no cancellation or refund application will be accepted.
One year warranty

Starting from the invoice date, a one-year warranty is provided.

⚠️The following are not included in the maintenance service:

3D printer: extruder and clogged nozzles.

UV printing printer: printheads and clogged nozzles.
View full details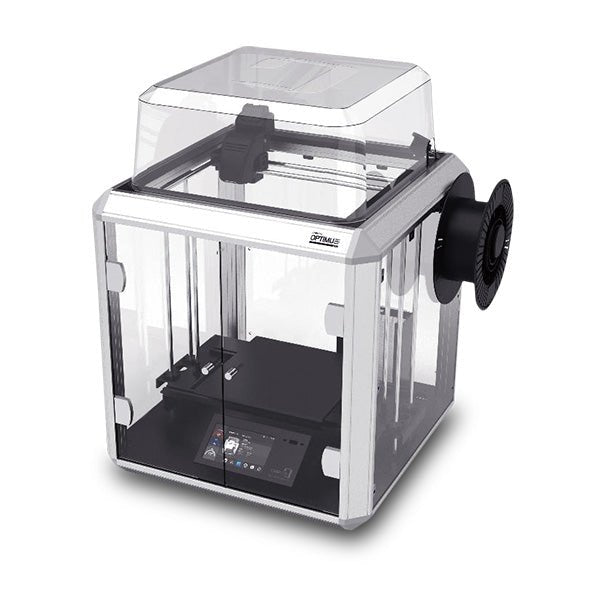 平台全自動校正,方便快捷

平台自動校正確保噴嘴與熱床的距離正確。 Cubicon Optimus-C23Z的平台自動校正誤差精度在 10μm 以內,為用戶提供極其準確和高質量的打印。

可更換的擠出機和噴嘴

Cubicon Optimus C23Z具有可自行更換的噴嘴和擠出機、相於起市面的其他型號,更加易於安裝及維護。Cubicon專利的不銹鋼噴嘴,增強了可用性並將有效減低打印失敗率。與帶有管子的典型噴嘴套件不同,它與不銹鋼管連接,即使在加熱輸出時也能提供出色的性能。

雙Z軸床身構造

雙Z軸床身設計,令Optimus-C23Z在打印過程中更穩定,提升打印精細度,減少因振動而引起的波紋層。
三重空氣過濾,打造更安全打印環境

獲認證的三重空氣過濾器(高效濾網, 活性炭過濾網, 化學濾網)能夠有效阻擋使用FDM 3D 打印機時產生的微塵、有害氣體和異味,為用家提供更安全舒適的打印環境。
Technical Specifications
Technical Specifications

Printing technology: FFF (Fused Filament Fabrication)
Print size: 230(W) x 210(D) x 300(H)mm
Printing speed: Max 150mm/sec
Layer thickness: 150~300um, Min100um
Filament diameter: 1.75mm
Nozzle diameter: 0.4mm
Printing accuracy: XY 3.125um / Z1.25um
Support filament : ABS-A100, PLA Plus, PLA - i21, PETG, TPU
Max. nozzle temperature: 260°C
Max. heated bed temperature: 120°C
Slicing software: Cura/Simplify
Support files: *.stl, *.obj
Operating System: Window 7/8/10 (64bit), Mac OS
Power supply: 200 ~ 240V, 50/60Hz, 3.4A
Interface: USB (FAT32/NTFS), Wifi
Dimensions: 480(W) x 480(D) x 580(H)mm
Weight: about 30kg