Regular price
Sale price
HK$0.00
Unit price
per
Sale
Sold out
Ultra-high temperature nozzle/hot bed high-temperature chamber liquid cooling system Controlled thermal condensation technology Medical-industrial direct application

Special feature
Continuous printing after power failure: Save data when power is off Consumables detection: Pause printing when the consumables are exhausted Controlled thermal condensation technology: Intelligent directional control of high-temperature materials to be annealed or semi-annealed in real time during the printing process to achieve the required hardness and toughness. With the dual cooling water system, it can realize high-quality printing of complex, large-scale PEEK and other high-performance materials.
Thermal insulation: Three-layer thermal insulation Emergency stop switch: Support emergency emergency shutdown High temperature resistant accessories: The whole machine is equipped with high temperature motors, belts, guide rails, and circuits to ensure long-term high temperature printing
Controlled Thermal Coagulation Technology
Controlled thermal deposition technology (DAS) is CreatBot's world's first extraordinary patented technology, which can intelligently and directional control the stress release, annealing or semi-annealing process of high-performance materials during printing, and can effectively prevent large-area model warping and layer fracture . It is designed to print the highest quality large-scale models at one time, enabling high-quality printing of complex large-scale PEEK and other high-performance materials. (This technology is protected by patent and only provided by CreatBot).
Features of DAS annealing process:
1) Instant: Completed during printing, no post-processing required.
2) Complete: The annealing process is for each extruded consumable, not the entire model. After the entire model is printed and annealed, the internal structure may not be completely crystallized or deformed by heat.
3) Controllable: The surrounding temperature at the position below the nozzle can be adjusted from 0-200°C. Through the control of the flow rate of hot air, wind speed control, and heating temperature control, different degrees of annealing can be performed on different parts. Meet the requirements of both material toughness and strength.
---
Advanced temperature control <br>Thermal control system: high temperature extrusion head, hot bed, fully enclosed thermal chamber Body-controlled thermal condensation system Cooling system: liquid cooling, air pump cooling

Incredible parameter configuration <br>Up to 500°C Dual nozzles up to 200°C Hot bed up to 120°C Hot chamber build volume: 300 x 300 x 400 mm
The whole machine is equipped with three-layer heat insulation protection and liquid cooling system

The most eye-catching patented technology <br>Controlled thermal deposition technology (DAS) is a revolutionary technology developed by CreatBot, which is a cutting-edge technology applied to 3D printing high-performance materials. The technology is protected by patents and only provided by the CreatBot team.

Printable high-performance materials <br>Engineering grade materials: PC, ABS, PA6, PETG, PVDF, POM-C, PP, TPU
High temperature materials: PPSU, PEI (ULTEM), PA12, PSU, PPS, PA-CF
Ultra-high performance materials: medical grade PEEK, industrial grade PEEK, PEKK, CF-PEEK (carbon fiber), GF-PEEK (glass fiber), etc.
Product/Quotation Inquiry
View full details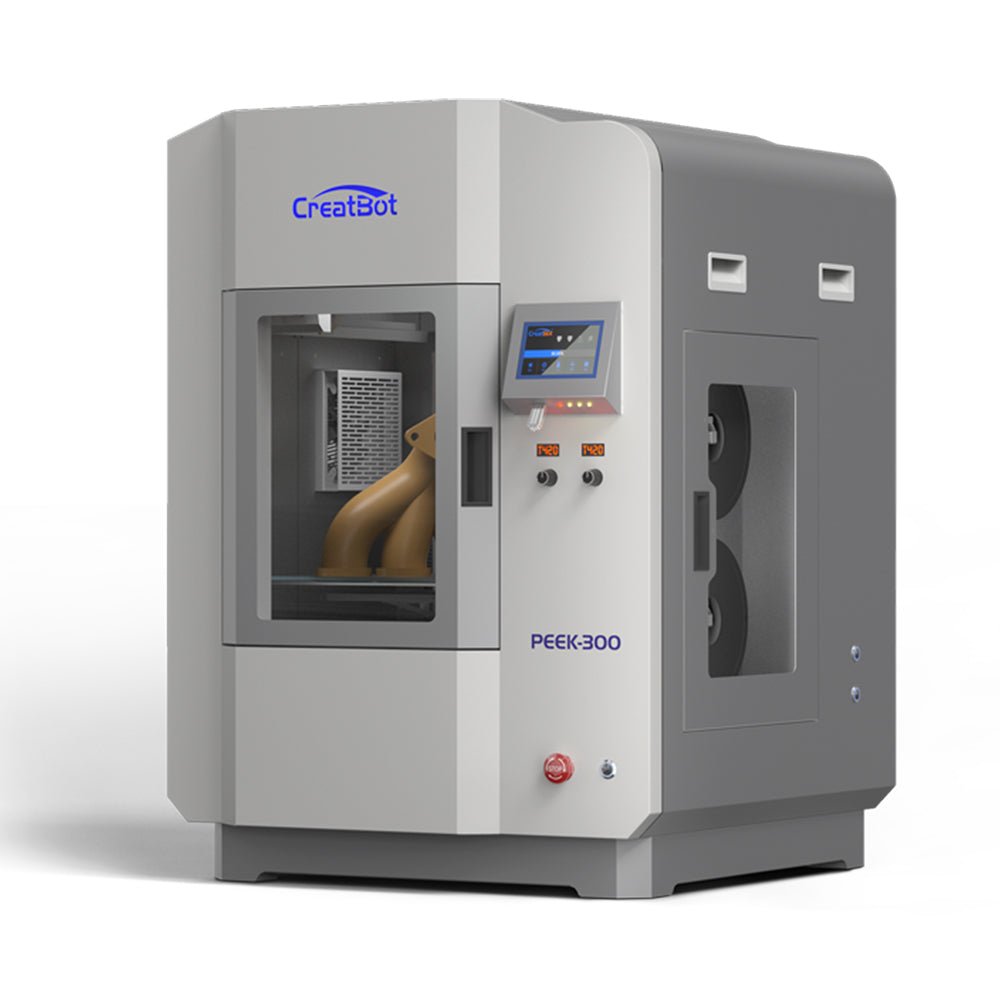 technical specifications
technical specifications

Forming size: single head printing: 300*300*400 mm
Double head printing: 240*300*400 mm
Consumable Diameter: 1.75mm
Number of nozzles: double nozzles
Printing speed: 10-120mm/s
Nozzle diameter: 0.4mm (0.3-1.0mm optional)

Applicable consumables
Engineering plastics:
PLA, ABS, ASA, PC, Nylon, PETG, PVDF, TPU, carbon fiber;
High temperature consumables:
UltraPA, UltraPA-GF, UltraPA-CF, PPSU, PEI(ULTEM);
High performance consumables:
PEEK, CF-PEEK (carbon fiber), GF-PEEK (glass fiber), PEKK, etc.


Head cooling: air cooling & water cooling system
Printing platform: aluminum substrate + PEEK printing special work board
Positioning accuracy: XY axis 0.0127mm, Z axis 0.00125mm
Extruder: proximal wire feed
Fully enclosed: fully enclosed high temperature cabin
Leveling: manual leveling/automatic leveling

The maximum temperature of the nozzle: 500°C
Maximum temperature of workbench: 200℃
Cavity temperature: 120°C
Controlled thermal condensation temperature: 0~400℃

Slicing software: CreatWare self-developed slicing software, Simplify 3D, Cura, Slic3r
Operating system: Windows all macOS
Input files: STL, OBJ, DAE, BMP, JPG, PNG, G-CODE, etc.

Machine size: 650*600*750mm
Machine net weight: 100kg

Input power: 200V~240V, 20A
Rated power: 4600W
Printing method: USB online printing/USB offline printing
Package size & weight: 750*580*720 mm 65 kg