Table type cylindrical CNC engraving machine
Regular price
HK$42,300.00
Regular price
Sale price
HK$42,300.00
Unit price
per
Sale
Sold out
Designed for educational institutions, it is also suitable for offices and homes to meet small engraving needs.
Desktop rotary axis CNC engraving machine, the Y axis is used for engraving in a rotating manner. It is specialized in cylindrical or square column materials, and even irregular shaped materials can be carved and milled into cylinders. It supports bitmap files (such as *.jpg ), vector graphic files (such as *.dxf), and 3D model files (such as *.stl), which are convenient for teaching and personal use.

Shipping / Pre-order Terms

Delivery terms

Over HK$1500, free delivery;
If the amount is less than HK$1500, an additional local standard delivery fee of HK$150 is required;
Or SF Express (pay by freight)

Pre-order terms

It will take about 2-4 weeks for the pre-order to arrive. It is for reference only, and the actual situation depends on the shipment and transportation situation.
After the pre-ordered goods arrive, we will notify the customer of the arrival for arrange the payment of the final amount. We will arrange the delivery once the payment confirmed.
After the payment is confirmed for all reservations, no cancellation or refund application will be accepted.
One year warranty

Starting from the invoice date, a one-year warranty is provided.

⚠️The following are not included in the maintenance service:

3D printer: extruder and clogged nozzles.

UV printing printer: printheads and clogged nozzles.
View full details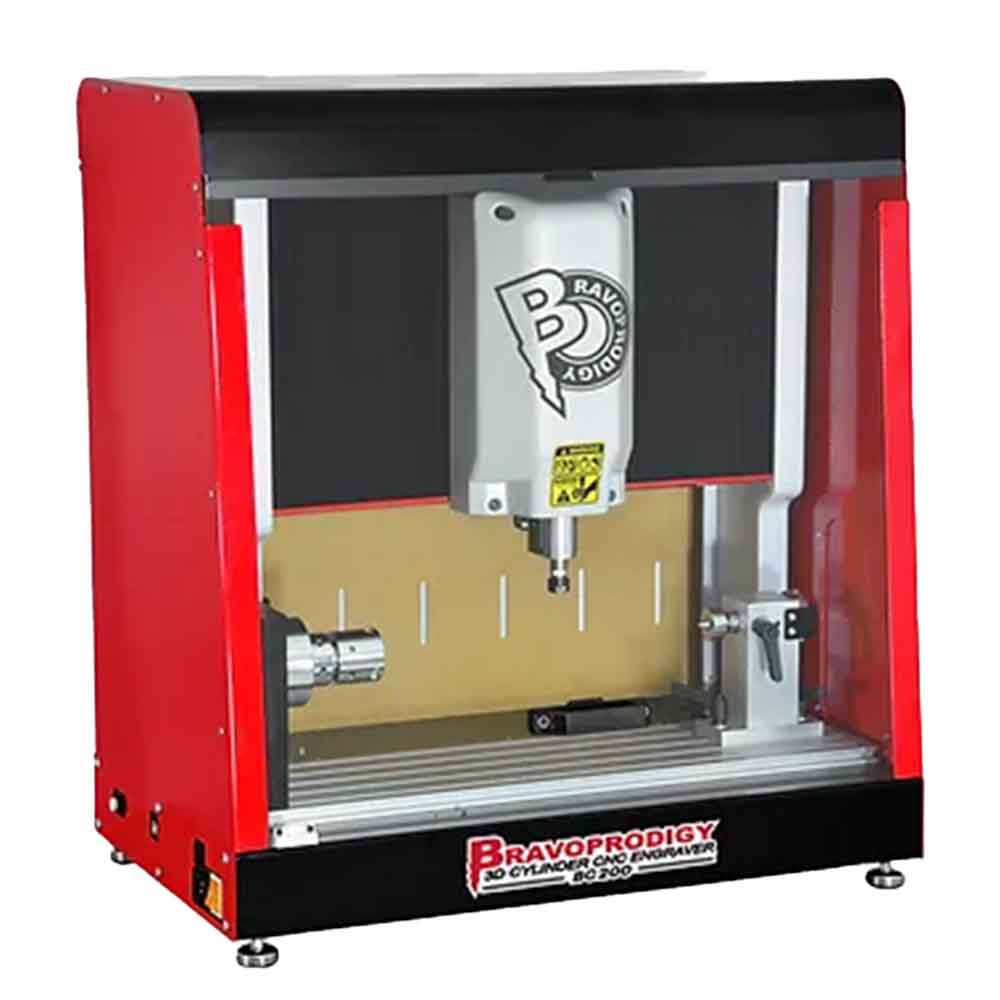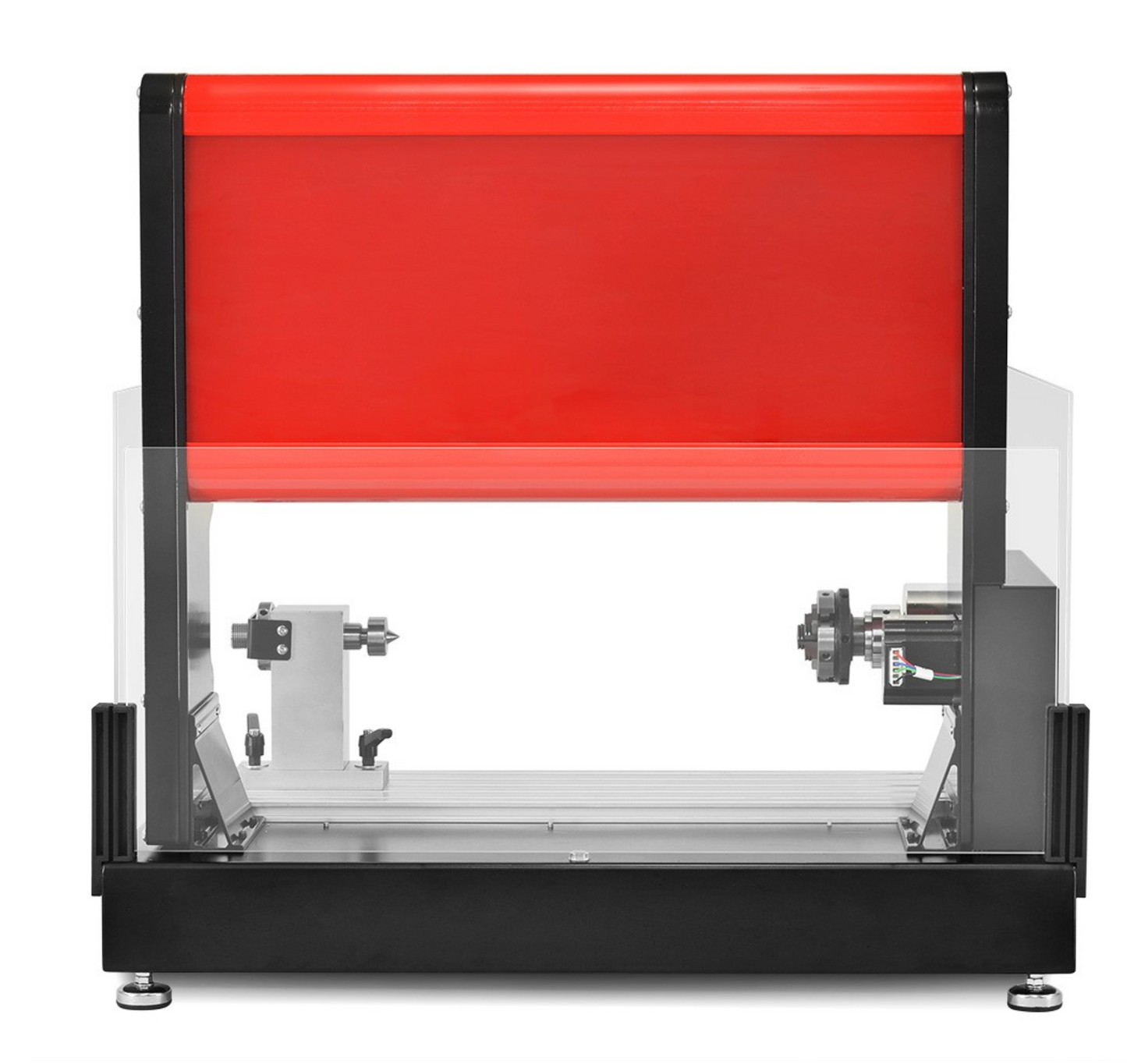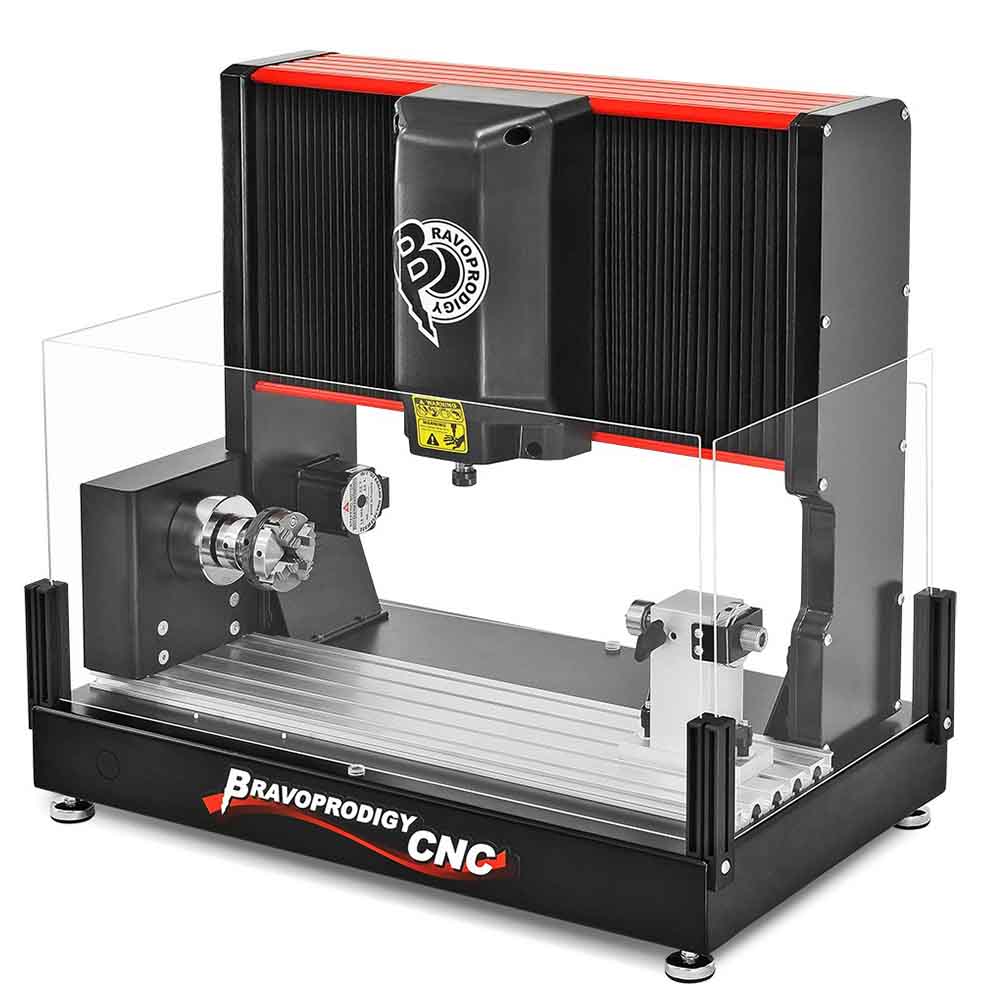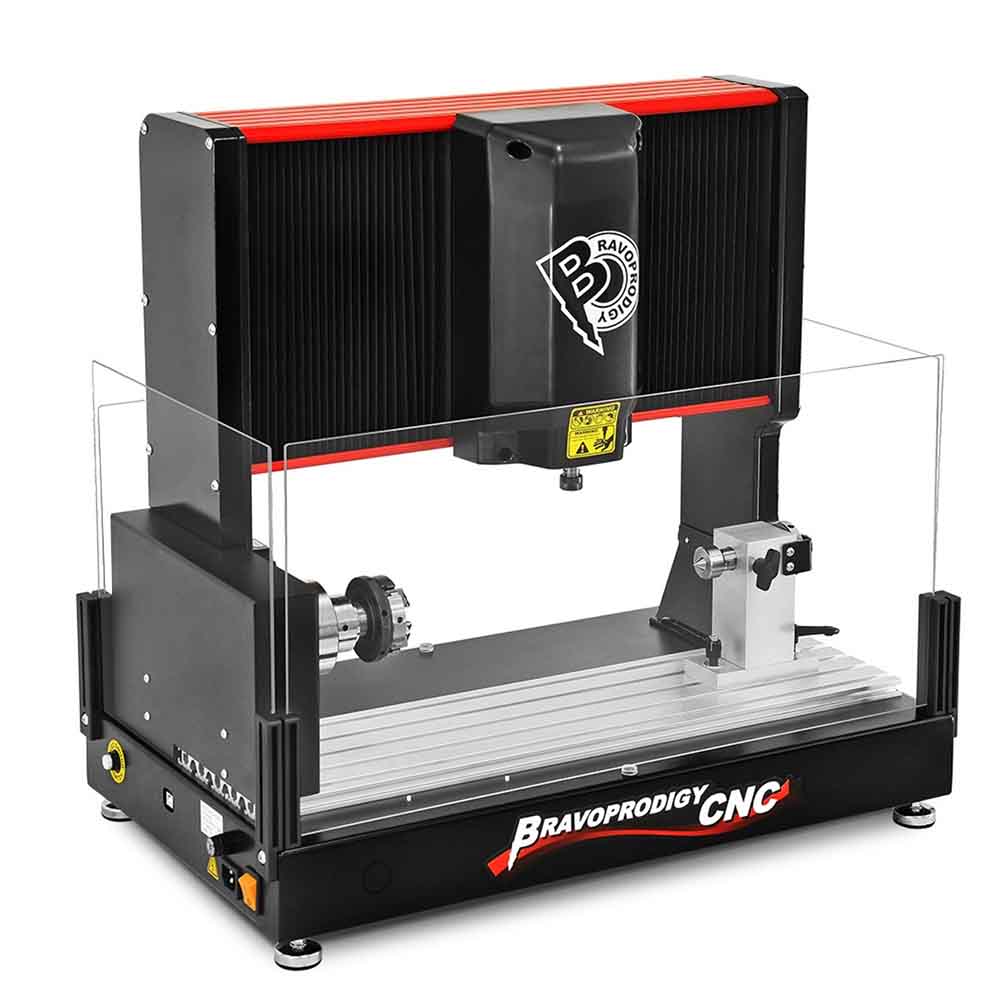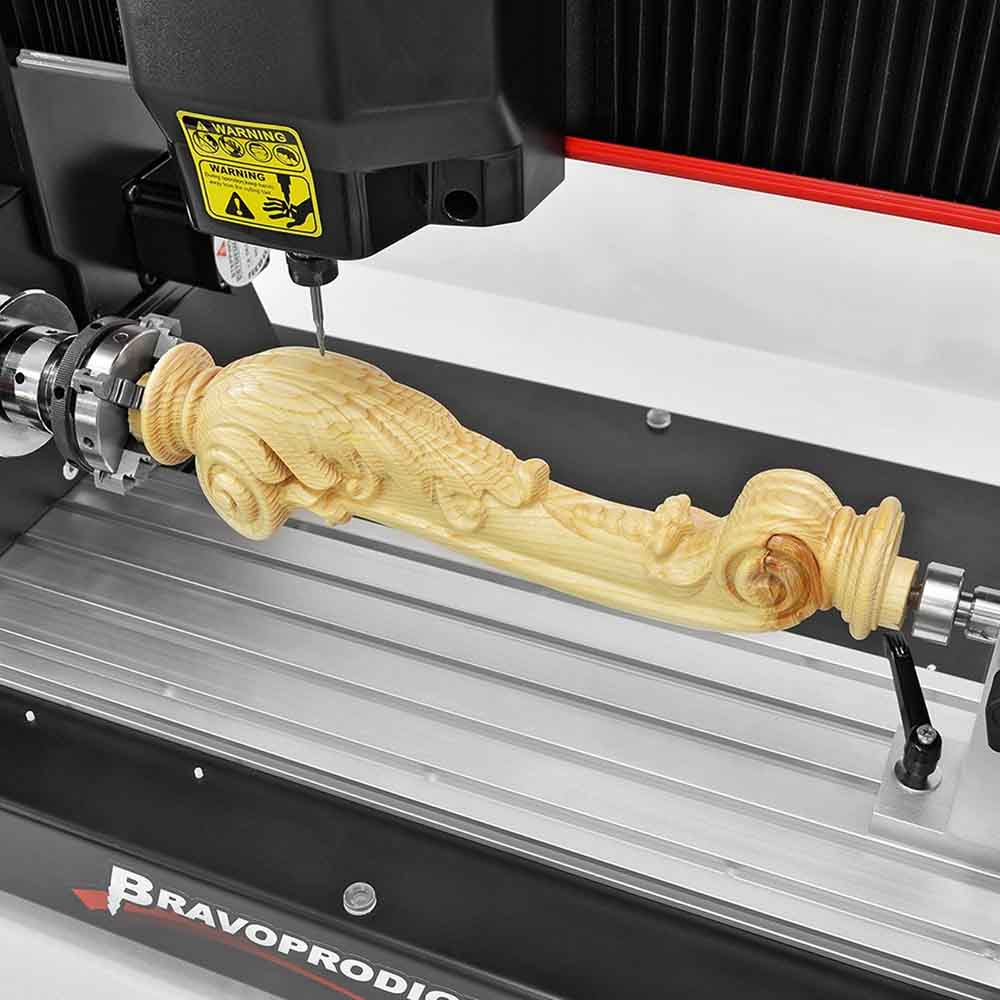 機身細小,功能齊備

1. 主軸採用DC無刷(BLDC)馬達:尺寸小、重量輕、高效率、溫升低、無碳刷摩擦、無需碳刷保養, 附有過負載、過熱、電壓…等保護,且馬達壽命長。

2. 附有LED 照明燈,方便察看雕刻作業亦具有科技感。

配搭專屬軟體

1. 隨機附有Bravoprodigy專屬EDIT雕刻轉檔軟體 與 CNC控制軟體。

2. CNC 軟體操作介面活潑,簡單易學,雕刻進行中可即時預覽與變更操作,可透過滑鼠、鍵盤、手持控制器來操作機器,只需透過USB傳輸連線,快速完成加工動作。

軟體相容性高

1.控制驅動軟體相容性高,可支援其他廠牌的CAM 軟體。
2.可記錄最後10 筆雕刻記錄 ( 含檔名、雕刻速度、主軸轉速、雕刻時間。) , 更可查詢主軸運轉時間,供使用者參考。
3.可手動控制三軸動作,搭配運轉主軸進行手動加工。
4. 主軸可依不同素材的特性調整至適當的轉速,進行最好的雕刻切削。
5. 軟體裡的便利性設計,只需輸入圓柱直徑尺寸,程式便自動計算並運用在實機雕刻上。
安全穩固

1.機身採用模組化功能易於維修與保養,所有電機與線路無外露,隱藏於機台裡的設計使其兼具美觀與安全。
2.可選購全罩式安全防護外罩,防護蓋除了可以防塵,一被掀起,會停止所有操作。
3. 三軸設有極限開關裝置防止撞機情形。
4. 三重保護( 如保險絲、電源供應器、電路板過負載保護程式) 來保護電路板及機器的損壞。
5. CE 、CUL認証。

設備穩固,操作方便

1. 附有固定頂針用來因應不同種類的木頭素材固定。
2. 附有四爪卡盤可穩固的挾持各類素材。
3. 附有手持控制器當在架設工作原點移動三軸時更方便操作。
4. 機器通訊方式使用USB傳輸線,能方便且快速的連接電腦。
5. 使用ER11套筒式主軸,裝置微小徑刀具。



使用材料廣泛

支援點陣圖檔 (如*.jpg)、向量圖檔 (如*.dxf)、3D模型檔(如*.stl),便於教學與個人使用。
雕刻的材質: 壓克力、ABS板、塑膠、木頭、泡棉、模型臘、保麗龍、EVA泡棉、代木、橡膠、軟性金屬、PCB...等。
Technical Specifications
Technical Specifications

Model: BC200
Weight of items that can be clamped: Max. 6 KG ( 13.2 lbs )
Maximum clampable object diameter: φ200 mm (8 inch.
※Remarks: Four-jaw chuck can clamp diameter
Positive jaw clamping range: φ4 mm~φ30 mm
Reverse jaw clamping range: φ30 mm~φ65 mm
Actual engraving length: Four-jaw chuck: 300 mm (12 inch)
Fixed thimble: 300 mm (12 inch)
Engraving speed: 2500 mm/min ( 98 inch/min )
Restrictions on engraving materials: plastic materials (ABS, acrylic), wood materials, foam cotton, Styrofoam, model wax, substitute wood...etc
Software resolution: 0.02 mm (0.001 inch)
Mechanical resolution: 0.02mm (0.001 inch)
Spindle motor: 200W DC brushless motor
Spindle speed: adjustable speed, up to 20,000 RPM.
Tool Diameter: ER11 Collet
3.0~3.175mm
4.0 mm
6.0~6.5mm
Transmission interface: USB 2.0
Power supply: 100~120V 50/60HZ ; 220~240V 50/60HZ
Power Consumption: 4.8A/2.8A
Dimensions: 635 x 376 x 610 mm
( 25 × 14.8 × 24 inches )
Equipment weight: 42 kgs ( 92 lbs )
Operating environment conditions: Temperature 5~40°C (41~104°F)
Humidity 35~80%